From Wednesday, 21 June, 2023 to Sunday, 2 July, 2023
09:00 - 17:00
What were you wearing?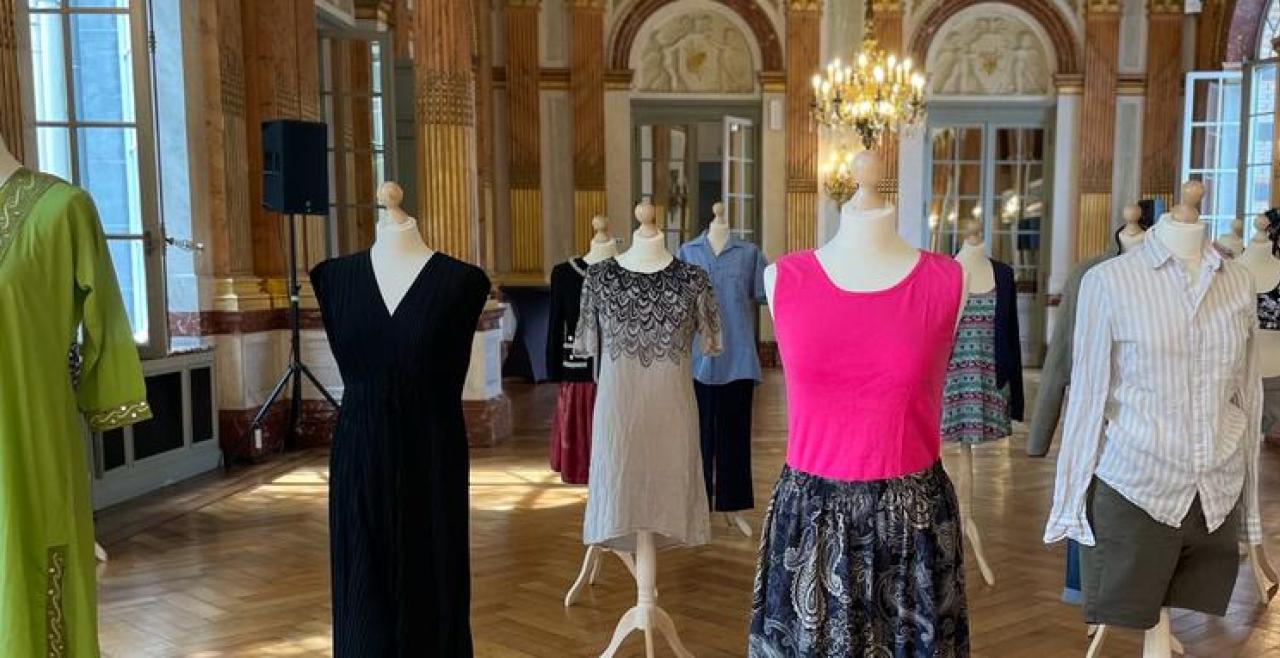 Salle des Glaces / Spiegelzaal, Parliament of Brussels Capital
[Voor Nederlands scroll je naar beneden]
In fashion, this question celebrates identity, creativity, and influence. But for survivors of sexual assault, it's used to blame them for the violence that happened to them. In one context this question is empowering, on the other, it takes away survivors' agency. The World Health Organization estimates that 1.3 billion women around the world have been sexually assaulted. Blaming survivors of sexual assault for the violence perpetrated against them is a common experience for survivors throughout the world. 
The exhibit, titled "What Were You Wearing?" features 103 outfits on mannequins. These outfitted figures represent the 1.3 billion survivors of sexual violence across the globe. Each outfit was worn by a survivor at the time of their assault. The objective of this project is to acknowledging survivors' bravery and resilience. The survivors' identities are anonymous out of respect and acknowledgment of the stigma associated with rape. When placed at the Parliament of Brussels, this exhibit adds a powerful layer of symbolism because it juxtaposes the stigma survivors face in one of the most prestigious places in the world.
The event's location is accessible to people with reduced mobility.
#WhatWereYouWearing
SURVIVOR-OUTFITS: WELKE KLEREN DROEG JE?
Bij deze mode gerelateerde vraag denken we aan identiteit, creativiteit en invloed. Voor  verlevenden van seksueel geweld impliceert de vraag echter vaak een vingerwijzing: een manier om hen de schuld te geven van wat hen overkomen is. In de ene context verleent de vraag empowerment, in de
andere ontneemt ze de overlevenden hun zeggenschap. De Wereldgezondheidsorganisatie schat dat wereldwijd 1,3 miljard vrouwen ooit al seksueel misbruik heeft ervaren. Overlevenden van een aanranding de schuld geven van het geweld dat tegen hen is gepleegd – het is iets wat over de
hele wereld veel voorkomt.
In deze tentoonstelling "What Were You Wearing?" worden 103 outfits getoond op paspoppen. De geklede figuren vertegenwoordigen de 1,3 miljard overlevenden van seksueel geweld over de hele wereld. Elke outfit werd op het moment van de geweldpleging gedragen door een overlevende. Met
dit project willen we de moed en veerkracht van de overlevenden belichten. Hun identiteit blijft anoniem – uit respect, maar ook omwille van het stigma dat op verkrachting rust. Door deze tentoonstelling in het Parlement van Brussel te organiseren, krijgt hij een krachtige, extra symbolische laag: het stigma waarmee de overlevenden af te rekenen hebben, steekt fel af tegen het prestige van een van de meest iconische plekken in Brussel.
De locatie van het evenement is toegankelijk voor mensen met beperkte mobiliteit.
#WhatWereYouWearing