Cecilia Suárez, Natalie Portman urge UN Member States to re-invest in Spotlight Initiative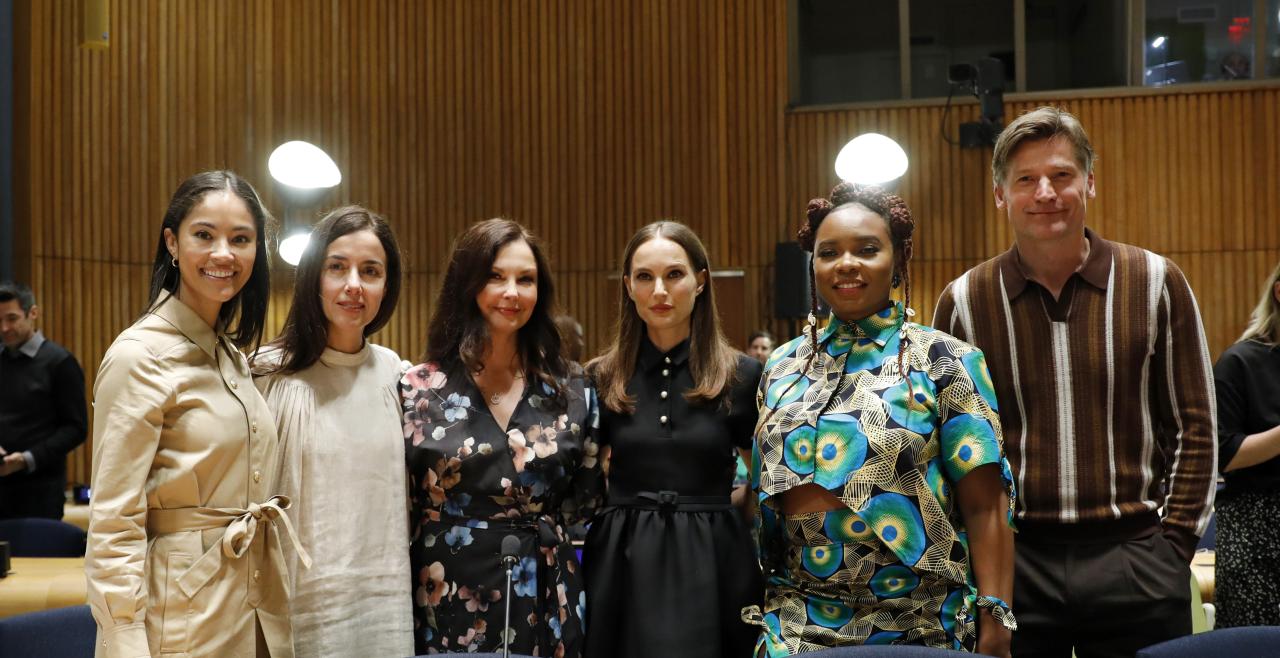 September 17, 2023
NEW YORK, United States – Invest in Spotlight Initiative and its comprehensive model for ending violence against women and girls. This was the message shared by actors and activists Cecilia Suárez and Natalie Portman as they addressed the international community at the United Nations ahead of the Sustainable Development Goals Summit.
UN Global Advocate for Spotlight Initiative, actor and activist Cecilia Suárez called for education "to transform thought and mindsets and prevent new generations of young people from living in a world without gender equality."
"We are seeing the results [of the initiative] in institutions but they are fragile because they depend on convincing those responsible of how urgent this initiative is," said Ms. Suárez. She reiterated that violence against women and girls affects every part of society: "Pain and suffering are not felt just by the victims but the victimized, it's a private and public pain."
Natalie Portman spoke to Spotlight Initiative's success addressing all key drivers of violence.
"Spotlight Initiative, launched in 2017, has been a beacon of hope for survivors all around the globe. Its unwavering commitment to eradicating violence, ending harmful practices and ensuring access to justice and support services is unprecedented," said Ms. Portman, before sharing some of the Initiative's signature results.
Ms. Portman related how a trip to Uganda in her twenties had opened her eyes to the link between women's economic autonomy and their physical safety, and the need for holistic interventions that address the root causes of violence.
She echoed the opening statement of UN Deputy Secretary General Amina J. Mohammed in calling on every country to develop a national plan to end violence against women and girls, saying "re-invest in the Spotlight Initiative and its comprehensive model. Let us continue to amplify the voices of survivors, advocates of justice and stand against the injustices faced by women and girls worldwide."
From the Spotlight Initiative Civil Society Reference Group in Trinidad and Tobago, Terry Dale Ince spoke of the importance of true partnerships with civil society – "the ordinary people doing extraordinary things."
"We in civil society know that if you want to end violence, all stakeholders, especially civil society activists, must be involved from the beginning… our engagement [with the Initiative] was intense, and it worked."
"We in civil society know that if you want to end violence, all stakeholders, especially civil society activists, must be involved from the beginning." - Terry Dale Ince, Spotlight Initiative Civil Society Reference Group, Trinidad and Tobago
Vice President of the European Commission for Democracy and Demography Dubravka Šuica committed funds to support the second phase of Spotlight Initiative. "I am glad to announce our decision to support the high-impact programme for the prevention of violence…. Through this investment we will ensure the achievements and results of the Spotlight Initiative are sustained," said Ms. Šuica.
Belgium's Minister of Development Cooperation Caroline Gennez also committed new funds and said that Belgium would adopt an intersectional approach that considers the needs of vulnerable populations.
Sierra Leone's Chief Innovation Officer and Advisor to the President Dr. David Sengeh said that "ending violence against women and girls is not just a national priority or a global concern but existential, that's how we think about it in Sierra Leone." 
Timor-Leste's Foreign Minister Bendito Freitas shared his country's experiences with Spotlight Initiative and expressed Timor-Leste's deep appreciation. He said that the Initiative had been used as a means to accelerate progress towards meeting targets under the 2030 Agenda and that "it would support transformative change to eliminate violence against women and girls and harmful practices."
The event featured musical performances from MILCK and Natasha Bedingfield, who sang their song 'Your Child My Child' publicly for the first time ahead of a panel discussion moderated by futurist Sinead Bovell.
Ms. Portman and Ms. Suarez were joined on the panel by actor and UNFPA Goodwill Ambassador Ashley Judd, actor and UNDP Goodwill Ambassador Nikolaj Coster-Waldau, and music artist and UNDP Goodwill Ambassador Yemi Alade for a discussion on the role and responsibility of the entertainment industry in in shaping shapes attitudes and norms around gender-based violence.
Executive Director of UN Women Sima Bahous, Executive Director of UNFPA Natalia Kanem and UNDP Associate Administrator Haoliang Xu closed the event with a joint statement thanking the audience for their interventions, their passion and for mobilizing behind a solution for SDG acceleration. "Violence curbs and informs every aspect of life and continues to exist not because of a lack of proven solutions but because of inadequate political will or prioritized resources." 
Read the full statements of Members States that did not have the opportunity to speak here. 
Watch the event below:
Like what you read? Spread the word.