How women are changing Kyrgyzstan's Alimony Laws for the better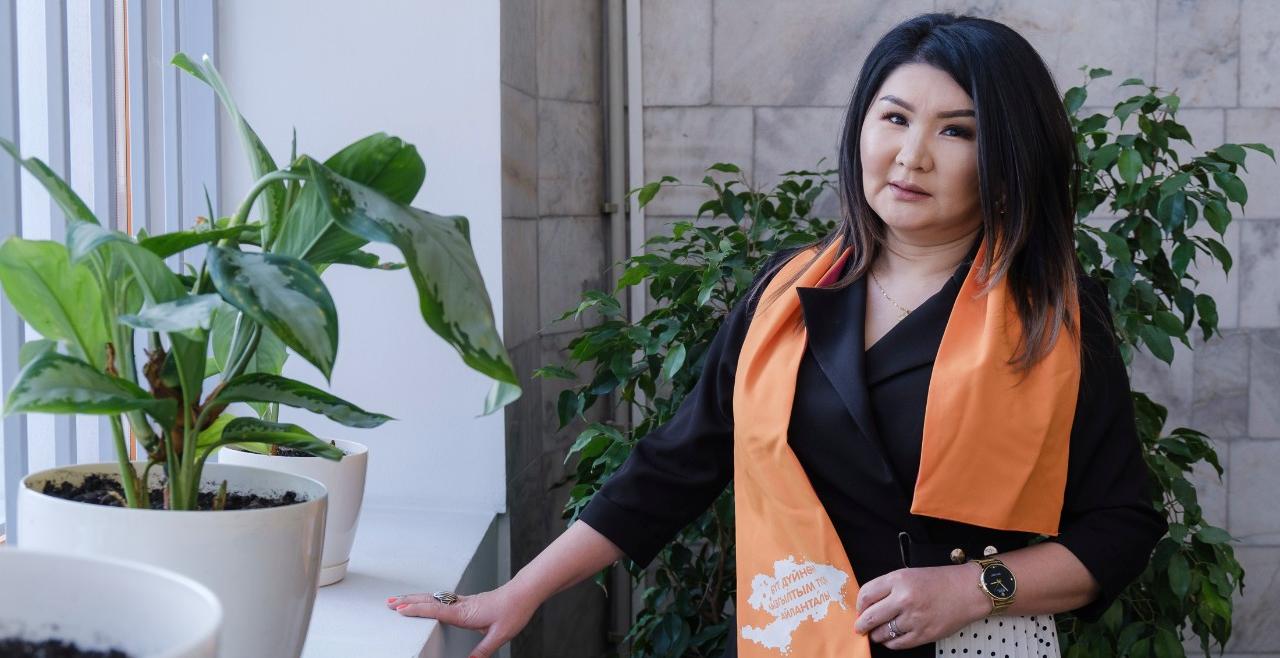 January 13, 2021
BISHKEK, Kyrgyzstan - In August 2020, Kyrgyzstan adopted amendments to its law to better enable women and children to collect alimony (financial support that must be paid to a spouse before or after marital separation or divorce). In 2018, the country documented over 40,000 alimony evaders.
The amended law increases access to alimony payments for children and mothers by strengthening the consequences for evaders and adding new criteria. The draft law was promoted by the Spotlight Initiative in close collaboration with civil activists and lawyers.
Two people leading on these efforts are civil activist Ak-Moor Dzhanbolotova and Nadezhda Prigoda, a family law attorney.
When personal experience empowers
In 2015, Ms. Dzhanbolotova filed a lawsuit to establish paternity and recover child support payments. However, the process took more than four years due to legislative gaps and inconsistencies in the judicial system. While fighting for justice, Ms. Dzhanbolotova met many other women who shared similar struggles.
"The gap in the existing legislation lacks the leverage to influence alimony evaders," says Ms. Dzhanbolotova. "Even if women win in court, most do not receive alimony payments, because an evader pays a fine to the state and that's it." 
"Even if women win in court, most do not receive alimony payments because an evader pays a fine to the state and that's it." - Ak-Moor Dzhanbolotova, activist
In response, Ms. Dzhanbolotova brought together a community of more than 800 single mothers and negotiated with women MPs to pass amendments to the Family Code of the Kyrgyz Republic. She says that she realized the importance of working within the judicial system to make the laws useful, but adds that not all their desired amendments were included in the final draft law, such as deprivation of parental rights.
"I lost the lawsuit in the city court without justification. The courts were endlessly forwarding me to different courts… Most mothers have to defend their rights and cope with procedures at suit for a long period," she says. "They no longer fight to be eligible for alimony but seek deprivation of parental rights as they cannot leave the country with their children without the consent of the second parent. It is precisely this provision that MPs rejected," she says.
Nadezhda Prigoda, a family law attorney and the working group's expert on amendments to the Family Code, adds that deprivation of parental rights is a sensitive topic that needs to be handled delicately.
Ms. Prigoda believes it's essential to make alimony payments easier to enforce. "We have envisaged another type of sanction for alimony evaders - the bailiff is now obliged to ban the debtor from going abroad if they do not comply with court decisions," says Ms. Prigoda. "This provision comes into effect in cases where debtors have failed to pay child support for more than three months.
A set of legislative advancements for children and mothers
Ms. Dzhanbolotova says she received valuable support from the women who joined her in promoting adoption of the bill. Together with her community, she participated in meetings with MPs, which triggered public discussions on the amendments to the Family Code.
As a result of these discussions, the new amendments finally defined "wilful evasion of alimony payment" as a systematic or incomplete fulfilment of obligations to pay alimony. The definition enables the court to deprive wilful alimony evaders of parental rights — that is, hold them accountable under family law — while still obliging them to pay alimony.
The amendments also set forth a minimum amount of child support. Previously, the payable amount from a parent's wage or income was based on the formula that 1 child equalled a quarter of the parent's monthly remuneration or income. Since the law came into effect in September 2020, the minimum amount of support per child is 1,854 som (equivalent to US$21.84) monthly.
"This is obviously little money. However, compared to the previous situation, when a child could receive 300 som per month, this is far better support," notes Ms. Prigoda.
"Compared to the previous situation, when a child could receive 300 som per month, this is far better support." - Nadezhda Prigoda, family law attorney
Moreover, the law establishes a requirement that both parents are held liable by a court decision to cover the child's living and medical expenses. As 92 per cent of alimony evaders are men, this change would improve the economic condition of single mothers and children, civil activists believe.
"Nevertheless, there are still some changes to be made in 2021," says Ms. Prigoda. 
Having realized the power and capacity of the women's movement, Ms. Dzhanbolotova is continuing her efforts to build solidarity among women. "We need a strong women's community to advance equal interests at the state level. I believe we can build a strong community capable of changing laws towards justice," she says.
Ak-Moor Dzhanbolotova is the leader of # МАМАТЫНЕОДНА (translated as Mother, you are not alone) movement.
Nadezhda Prigoda is a family law attorney with 20 years of experience, associate professor at the Department of Civil Law and Procedure, the Kyrgyz-Russian Slavic University, PhD in Law. 
By Chyntemir Kalbaev. Original article published by UNDP.
Like what you read? Spread the word.