PUYO, Ecuador - Even the unrelenting rain of the Ecuadorian Amazon could not dampen spirits at the recent meeting of more than 130 Indigenous Women leaders in Puyo on March 16 and 17. 
Titled 'Women, Body and Territory', the meeting was attended by women from the Antisuyu Warmikuna School, a training and leadership collective for indigenous women, with the aim of strengthening their ability to eliminate violence against women and girls.  Eleven indigenous nationalities of the Ecuadorian Amazon were represented, with women sharing their experiences and reflections on gender-based violence and how to prevent it.
Indigenous women are more vulnerable to violence, with data showing that Ecuadorian provinces with large indigenous populations (Azuay, Morona Santiago, Napo and Cañar) report higher rates of gender-based violence.
Nineteen-year-old attendee Nantar Pujupat Castillo is a Kichwa Shuar woman, psychology student and activist who writes children's stories. She is part of the collective Mujeres Caminantes (Walking Women), a feminist organization from Pastaza that advocates for the rights of Amazonian women and is a Spotlight Initiative partner.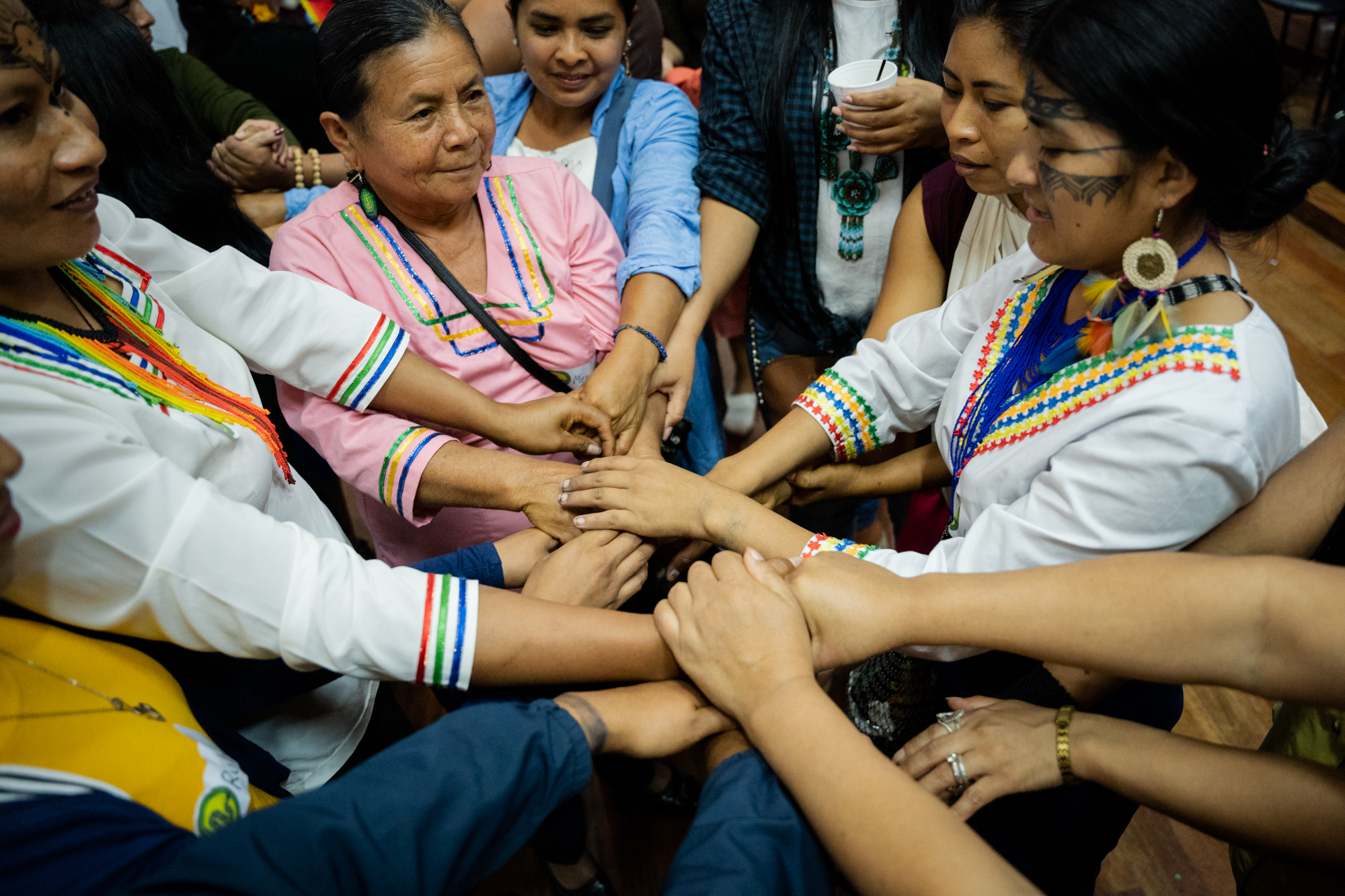 "The main challenge faced by women in my community is economic violence, and it is difficult for them to change their story," she says. "When my mother got divorced and my sister became a teenaged single mother was when I said to myself, 'Okay something has to change in society'. That was my biggest push to say that I'm going to look for a person to explain to me what's going on. The Spotlight Initiative, along with UN Women, gives us tools with which we can encourage more women to discover that there is a better life."  
During the meeting, each of the participants received a toolkit to help them address the prevention and eradication of femicide and gender-based violence. It included a board game with activities and information to help them share knowledge about violence prevention in their territories. These tools were built with the input of the Antisuyu Warmikuna school leaders and the games, activities, graphics and questions were adapted to the specific needs of indigenous women. 
Through writing children's stories, Ms. Pujupat Castillo is committed to sharing her knowledge and the experiences of women and girls in her community. "I am going to capture in my stories all that I am. I am Kichwa, I identify with them and I feel that they are my family," she says.
This meeting allowed women of different nationalities to share their experiences and skills in violence prevention. The participation of indigenous women in decision-making is one of the key factors for the prevention of violence and the eradication of femicide.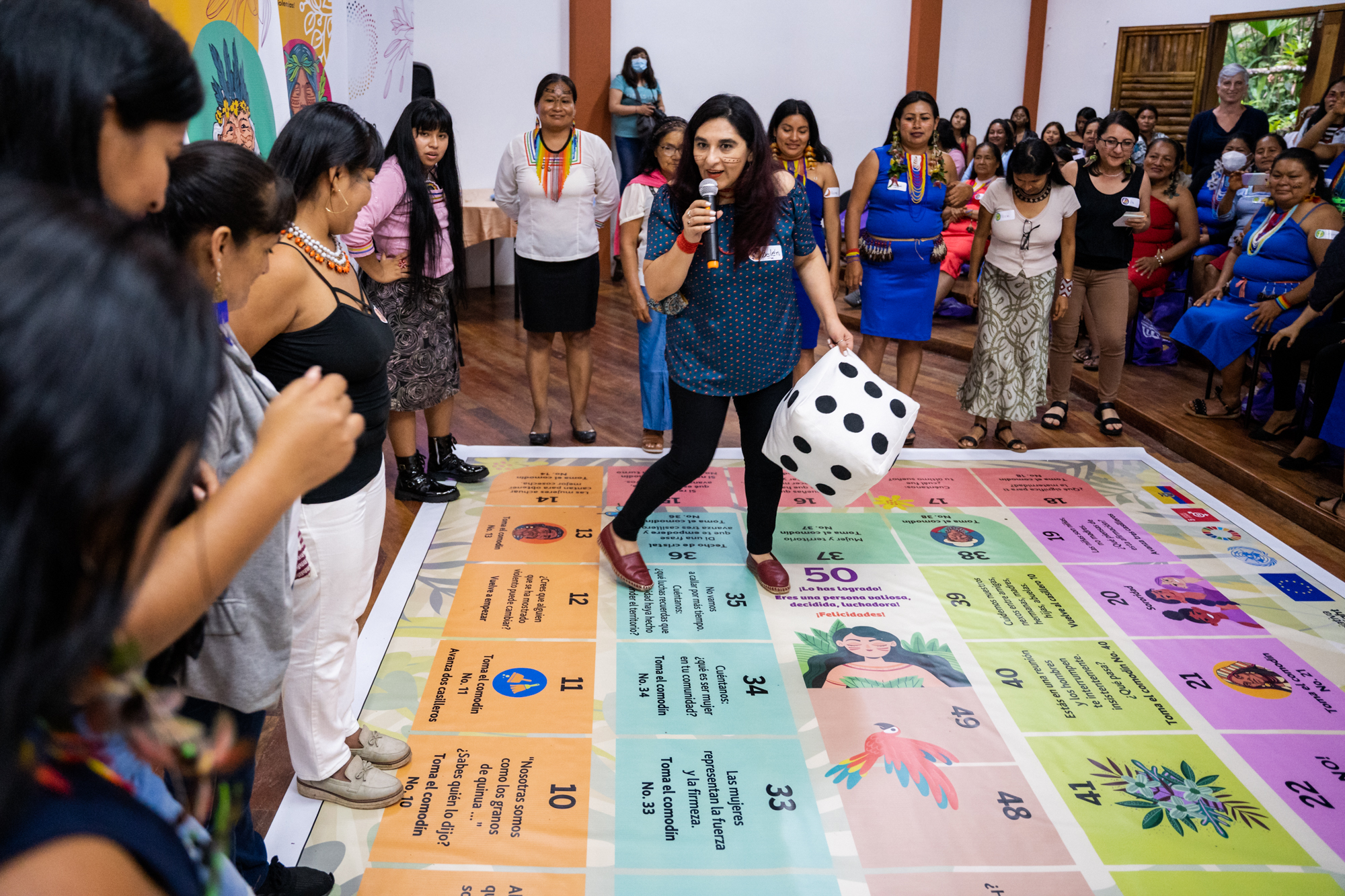 "It is necessary for Kichwa women to know what violence is, what type of violence it is, and what we should do when we are victims of this type of violence," said attendee María Cuji, a Kichwa woman from Pastaza. "This project has helped us to focus on the fact that Amazonian women, Kichwa women, also have the capacity to defend ourselves."
The meeting and the development of the toolkit was carried out as part of the project to strengthen women's movements and other civil society women's organizations to eradicate violence against women and girls and femicide. It is implemented through the Esquel Foundation and supported by the Spotlight Initiative in Ecuador. 
By Amalia Ospina
Learn more about the Antisuyu Warmikuna school:
Since 2019, 93 Amazonian women from 11 indigenous nationalities of the Ecuadorian Amazon and the Saraguro have been working to strengthen their knowledge of gender, women's human rights and collective rights, climate change, land rights, sustainable development and financial education.  The Antisuyu Warmikuna school is a space for training and empowerment. It was founded by the Confederation of Indigenous Nationalities of the Ecuadorian Amazon (CONFENIAE) and UN Women under the framework of incorporating a gender approach in the PROAmazonía programme.