Investing in gender-based violence survivors in Jamaica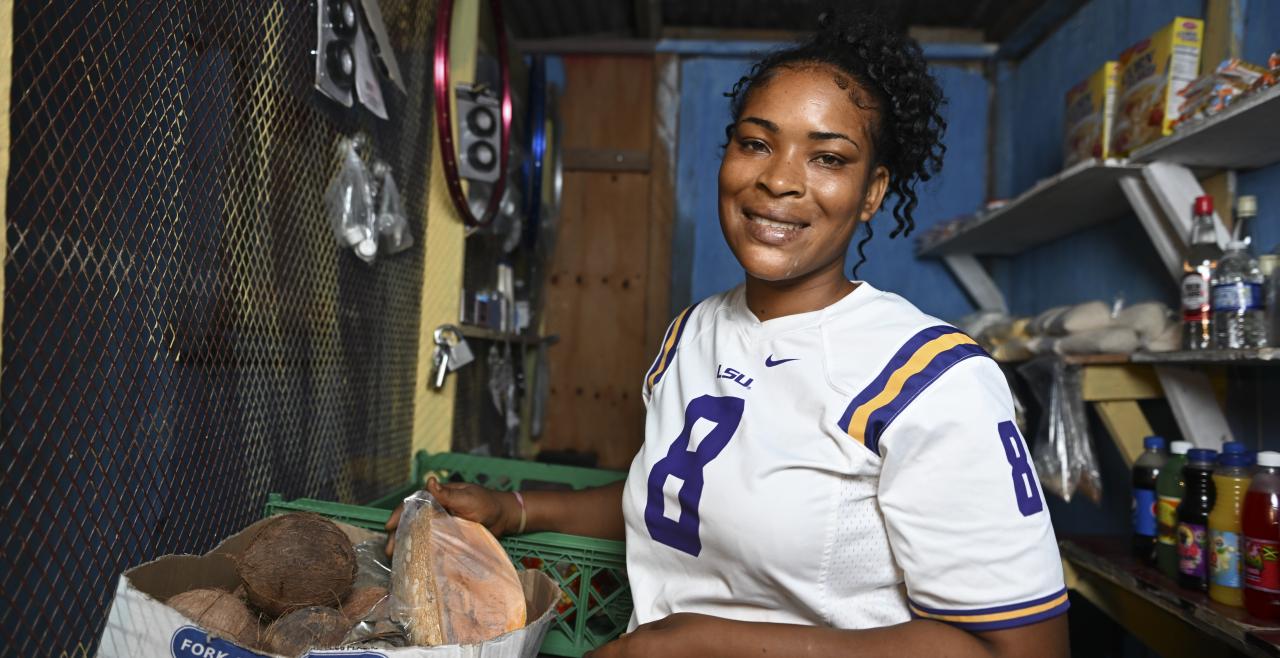 September 29, 2023
CLARENDON, Jamaica - Claudia McPherson's corner shop is up and running yet again, stubbornly defying break-ins and competing priorities that have set back the business numerous times.
It's due largely to McPherson's determination. Business is in her blood, she says, and she intends to make a success of it.
She lives in Canaan Heights in Clarendon, a community on Jamaica's south coast. Life here has not been easy. Ms. McPherson was born to a 16-year-old mother who had her own growing up to do. In her case, she says, it meant neglect from both her mother and her father.
Ms. McPherson herself became pregnant in high school at the age of 16 and gave birth at 17.
"It's like a tradition continuing, living the life same as the parents," she says.
Parenthood limited her ability to complete her education, but it was also not so unusual. Jamaica's adolescent pregnancy rates remain among the highest in the English-speaking Caribbean at 70 births for every 1,000 adolescents between 15 and 19 years old.
When things didn't work out in her relationship, Ms. McPherson did some travelling and entrusted the care of her children to their father and his girlfriend. To her horror, the children ended up "getting abused all over again." 
"I thought there was no love, because I get the abuse then my children were left with their father for a better life only to hear they were getting abused [too]."
To better provide for her family, she decided to enroll at HEART, Jamaica's National Training Agency. Her HEART instructors were suitably impressed and sent her for an apprenticeship through the City and Guilds programme.  
Ms. McPherson's mother saw her progress and helped her to finance and open a corner shop.
In Jamaica, corner shops are social gathering spots for games and chatting, and a quick stop for assorted food and household items. The corner shop is a ubiquitous feature of community life and an important part of the informal economy, representing $9 billion of GDP in 2021. 
Buoyed by the investment, Ms. McPherson made plans, but faced multiple setbacks.
"They broke [into and robbed] the shop again and I had to be paying rent and bills … I tried getting help everywhere but there was nothing available," she says.
SPOTLIGHT INITIATIVE INVESTS IN GENDER-BASED VIOLENCE SURVIVORS
While Ms. McPherson was rebuilding her business, someone told her about the Women's Economic Empowerment Programme supported by Spotlight Initiative. The programme is implemented by the United Nations Development Programme (UNDP) Multi Country Office in Jamaica in partnership with municipal corporations in Clarendon and St Thomas.
It has trained 80 gender-based violence survivors like Ms. McPherson, with the aim of supporting women to establish economic independence so that they have full control over their lives and futures.
It also provides grants for graduates to re-invest in their business. "That motivated me. I said even if I wanted to give up, I have to continue."
Ms. McPherson says the programme equipped her with business skills and helped her to be self-motivated, independent and to understand people. "I also learned how to understand myself and how to uplift myself," she declares.
"The business is now on its way back. I'm still opening and I'm still giving thanks and I'm still living by my philosophy, to give up is a sin." 
FOOTNOTES
Text by UNDP Communications Analyst, Gillian Scott. Thanks to UNDP Spotlight Initiative programme manager, Shellian Forrester and thanks to teams from St Thomas and Clarendon Municipal Corporation and Clarendon Parish Development Benevolent Society for facilitating the interviews. Photos by Ricardo Makyn for UNDP Multi Country Office in Jamaica.
Like what you read? Spread the word.