For many women and girls, being at home doesn't mean being safe. Violence often comes from those they're closest to: partners, family and people who claim to be their friends.
Lockdowns and social distancing to slow the spread of COVID-19 have led to a spike in domestic violence worldwide. Mexico is no exception.
In April 2020, 11 women were killed every 24 hours in the country (more than the 2019 average) and the national 911 emergency number received 143 calls every hour about various forms of violence against women, according to the latest report by the Executive Secretariat of the National Public Security System (SESNSP)*.
While 911 calls showed a slight decline from March, when 155 calls per hour were reported, the figure is still higher than in February (136 calls per hour), when COVID-19 mitigation measures were not yet implemented in the country. The decline from March to April does not necessarily imply a decrease in violence against women and children – because many women live with their abusers, they may find it impossible to ask for help or to report violence.
This is why the Spotlight Initiative in Mexico, a United Nations/European Union programme in collaboration with the Government of Mexico for the prevention and elimination of femicide, has released the video #NoEstásSola (You are not alone).
 
More than a campaign, the video aims to reach women experiencing domestic violence and let them know that violence is not normal and that they are not alone. It is a call to seek and obtain help, as well as a means of making hidden violence visible both during the pandemic and after it. The hope is that more women and girls at risk of violence will learn how to access the support services that can keep them safe.
The Spotlight Initiative is working with its partners to step up violence prevention measures and to meet the increased demand for support.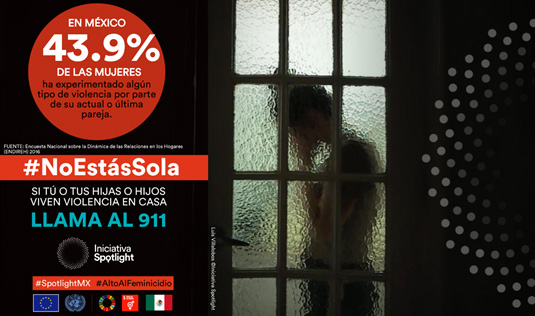 CALL TO ACTION
If you live in Mexico and feel that your safety or that of your children is at risk:
• Talk to a friend, neighbour or someone you trust who lives nearby and share your situation with them.
• Create a personal code or password (a word, phrase or emoji) that only you and the trusted person know that can be used to ask for help. 
• Prepare a small emergency backpack with necessities, important documents and money, and keep it in a safe place that is only accessible to you.
• CALL 911 or a shelter or organization near your home.
We suggest you review the recommendations of the Government of Mexico and the Board of Justice Centre for Women operating in the Mexican Republic, prepared by the National Commission to Prevent and Eradicate Violence against Women (CONAVIM), as well as the Services of Care for Women, Girls, Children and Adolescents in Violence, compiled by the National Institute of Social Development.
The Spotlight Initiative has also developed a National Directory and directories for Mexico State, Guerrero and Chihuahua, the three states where the programme works for the prevention and elimination of femicide in Mexico, in collaboration with the Government of Mexico, local governments and civil society.
We invite you to share the video #NoEstásSola to let more vulnerable women, girls and children know that they have the right to live a life free from violence.
This video has been developed within the framework of other actions for the prevention of violence against women and girls launched by the Government of Mexico in partnership with Spotlight, an initiative implemented by six UN offices in Mexico: UN Women, OHCHR, UNICEF, UNODC, UNFPA and UNDP.
For more information on Spotlight Mexico, follow at @SpotlightAmLat or visit www.spotlightinitiative.org/es/mexico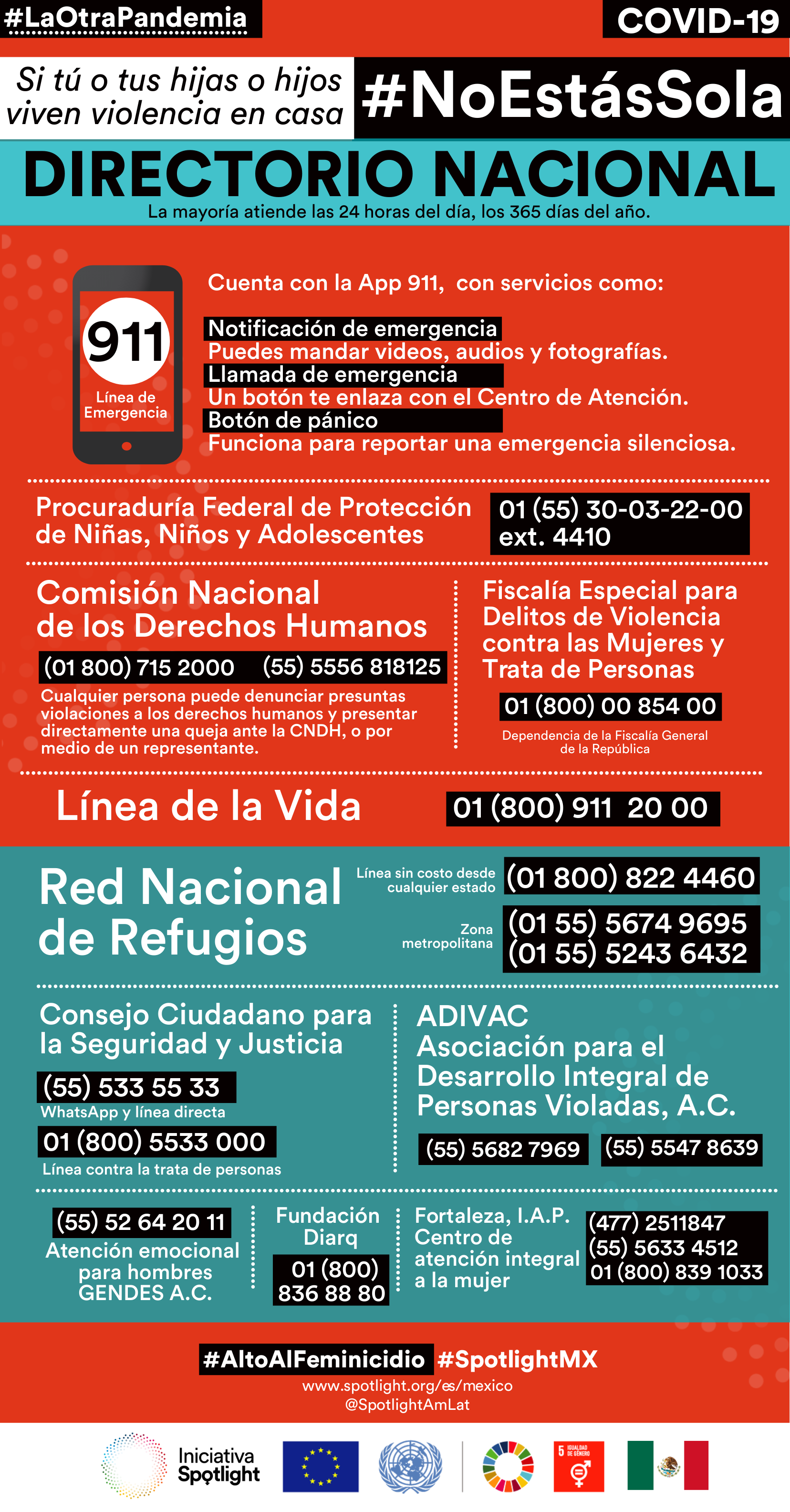 * Report on violence against women, criminal incidence and 9-1-1 emergency calls. National Information Centre. Executive Secretariat of the National Public Security System. Information as of April 30, 2020.