Peer-to-peer mentoring helps girls understand their rights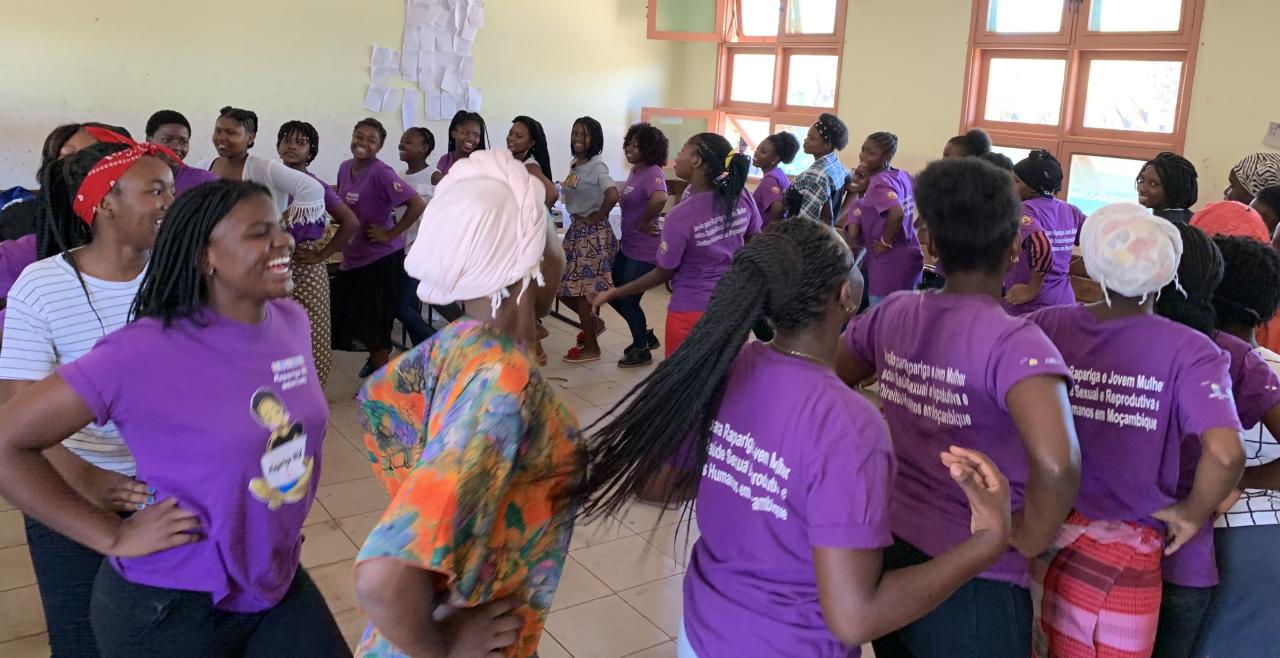 March 18, 2020
MAPUTO, Mozambique – Asking questions about sex, pregnancy and violence can be daunting for young women in Mozambique. But when an estimated 46 per cent of girls aged 15 to 19 are either pregnant or already mothers, discussing sexual and reproductive health and rights is critically important.
Young women are more vulnerable to early pregnancy and marriage, gender-based and sexual violence, HIV and complications arising from childbirth when they are uninformed about their choices. Mentorship and counselling programmes are addressing the need for supportive places to learn by training young women to guide their peers on sensitive matters via text and in person. 
Below, three mentors share how they're helping other girls to access information in a safe and confidential way.
Raíma, 22, is one of 48 young people trained by the SMS Biz programme to counsel her peers on topics such as child marriage, violence, HIV and adolescent health via text message. She addresses everything from relationship issues to where to get an HIV test and receives more than 1,500 questions a month through the SMS BIZ/U-Report platform, which has almost 280,000 subscribers in Mozambique. It's free, fast and offers young people a chance to ask questions they don't feel comfortable asking in person.
At first, Raíma's parents were sceptical about her activism. "I would come home with piles of condoms for distribution and my parents thought I had lost my mind," she says. Today, they are her biggest supporters.
Spotlight Initiative is helping even more young people access information about their sexual health and rights through SMS Biz by establishing a new counselling hub in Nampula Province. Another 20 youth are being trained as mentors; between them, they'll be able to answer an additional 30,000 questions a month, significantly reducing response wait times.
Learn more about Raima.
Rosimina, 19, is one of the 1,100 female mentors trained by the Rapariga Biz Programme in Nampula Province to counsel adolescents on their sexual and reproductive health rights through mentoring sessions in safe spaces. Coming from a low-income, single-parent family, Rosimina struggled to remain in school and never imagined she would become a mentor. Today, she supports other girls and has helped one of her mentees who survived domestic violence to return to school.
The Spotlight Initiative is supporting the expansion of the Rapariga Biz Programme to two more provinces, Gaza and Manica. 
Learn more about Rosimina.
 "I help girls that are going through the same [situation] I did." - Filomena, 22
Filomena, 22, grew up on the outskirts of Maputo. Orphaned during her early teens, Filomena had a troubled upbringing affected by poverty, depression and drugs. She escaped an abusive relationship with an older man and with her brother's help, rebuilt her life. She joined the youth support organization Associação Socio-Cultural Horizonte Azul (ASCHA) as a client and later trained to become a mentor.
Today, Filomena helps other young girls overcome challenges similar to her own. "I feel like a hero. Now I can make conscious choices," she says. "I help girls that are going through the same [situation] I did. I share my story and guide their choices." 
Girls helping girls
Programmes like the ones that trained Raíma, Rosimina and Filomena benefit mentors as well as the thousands of peers they advise every month. Though they come from very different backgrounds, all three women are working toward a common goal: empowering girls to fully realize their rights.
The Spotlight Initiative is supporting their work by funding the expansion of peer mentoring programmes into new provinces and scaling up existing programmes, ensuring that all girls have access to essential information about in a safe, confidential manner.
Adapted by Leonor Costa Neves from stories by Aida Nhavoto (Forum Mulher); Luísa Galvão and Nathaly Guzman Figueroa (UNFPA); and Zamzam Billow (UNICEF).
Lead image: Girls from Nampula province dance during a training session as part of the Rapariga Biz Program. Once trained, these girls mentor other adolescents on their sexual and reproductive health rights in safe spaces. UNFPA/Luísa Galvão.
Like what you read? Spread the word.