In Tajikistan, financial independence is breaking the cycle of violence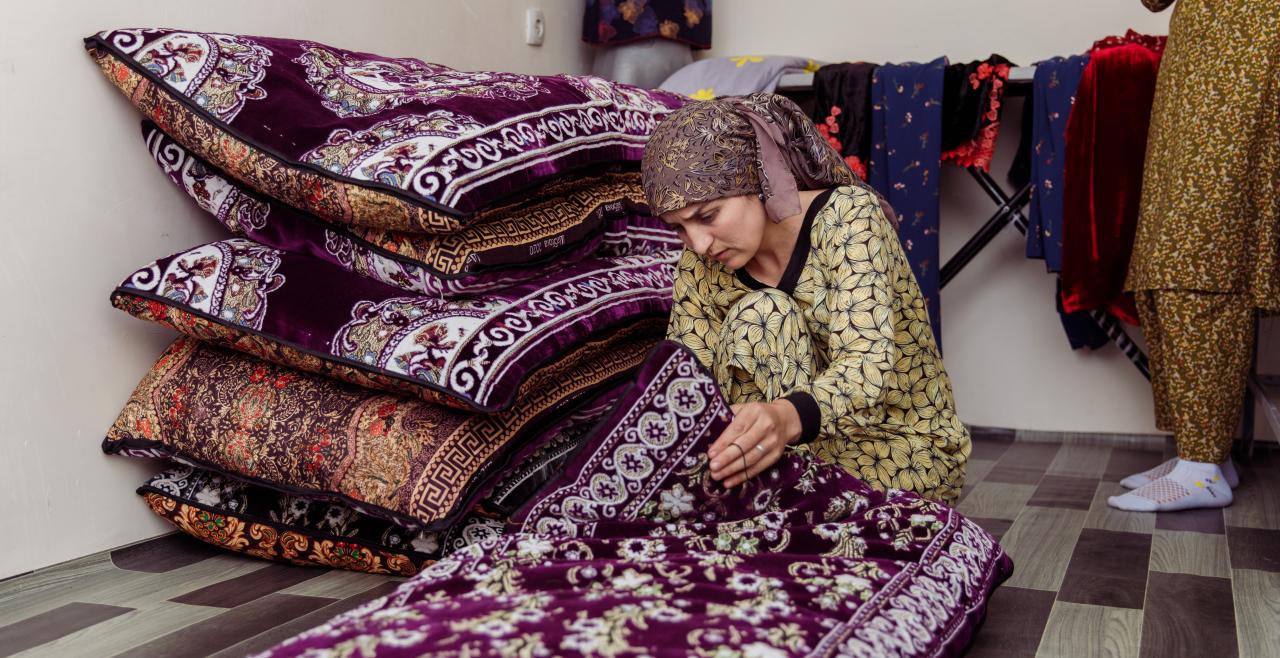 June 1, 2023
Rudaki, TAJIKISTAN - Mirzoeva Madina, 34, was born and raised in a rural area of Tajikistan. When she was in 9th grade, Madina was forced to leave school as her family could not afford the fees. In time, her dreams of continuing her education were crushed as her father was struggling to provide for a large family of ten.
When Madina got married and started her own family, her financial hardships persisted. With her in-laws and four children all living together in a small house, Madina often struggled to provide necessities for her family. In addition, her son had hydrocephalus (a condition which causes fluid buildup in the brain) and was in dire need of medical attention. However, her husband's family refused to seek treatment for him. Whenever Madina asked for help, her husband would beat her.
"I wouldn't wish the pain I've experienced on anyone," says Madina of the challenges she has faced.
The psychological and physical abuse, coupled with societal pressure to keep the family together, left Madina feeling trapped. When Rukhshona, a local representative of the Committee on Women and Family Affairs, invited Madina to a workshop for people with disabilities and women from vulnerable families, everything changed.
She learned about the Spotlight Initiative-supported economic reintegration programme. Implemented by UNDP, it aims to improve the livelihoods of  women and girls who have experienced gender-based violence by helping them to become financially independent.
Turning her passion into a business
In 2022, Madina received training on starting her own business from the NGO "MIR - Markazi Imkoniati Bahri Rushd" and received a small grant from the Spotlight Initiative. Madina was provided with equipment to start her own sewing business, including three sewing machines, an iron and an ironing board. She began designing and sewing national dresses, bags, wallets, and baby socks to sell.
"I never thought I could support my family on my own, but with the help of the Spotlight Initiative, I was able to turn my passion into a business and provide for my children," she says.
Overcoming the Odds
Madina's business quickly took off, providing her with financial independence and the ability to support her children and pay for her son's medical needs. She even hired her sister and a neighbour from another low-income family to work for her, providing them with jobs and an income. Now Madina's dream is to expand her business and create more jobs for women and girls in her village.
"Women everywhere should never give up hope. It's time to take advantage of opportunities for training and development and become financially independent," says Madina.
By Zainab Qurbonova
Like what you read? Spread the word.