In Tajikistan, supporting children with disabilities to stay in school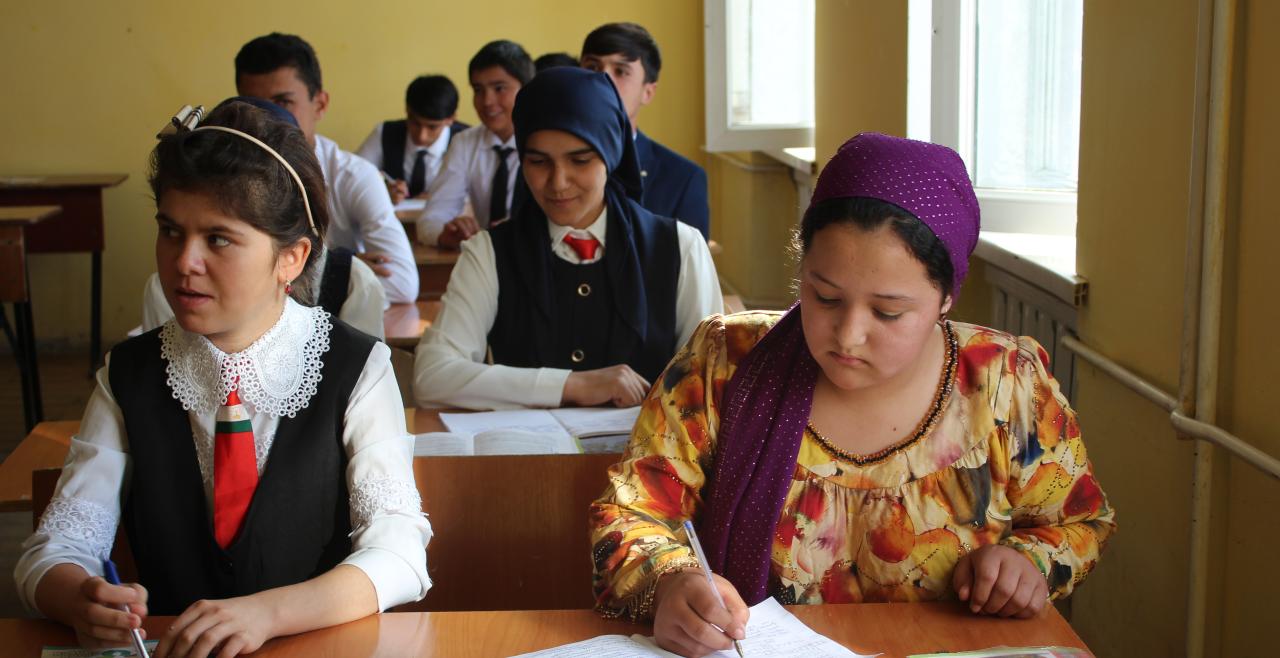 October 31, 2022
HISSOR, Tajikistan - Mohtobkhon, 16, is joyfully doing her homework. She is excited about the new school day and dreams of becoming a doctor, but this hasn't always been the case.
Mohtobkhon was diagnosed with osteoporosis at an early age. The condition, which causes a weakening of bones, prevented her from attending school or leaving the house as she feared being mocked by the other children. 
"My school has changed not only into a place where I can study, but it also makes me feel comfortable." - Mohtobkhon, 16
A combination of social stigma, insufficient facilities and poverty can all prevent children with disabilities from socializing, studying and integrating into their community. Additionally, when parents discover their child has a disability, they may become overwhelmed or fearful.
Globally, around one-third of young children and teenagers with disabilities face emotional and physical abuse, while 20 per cent experience neglect and 10 per cent suffer sexual violence. This increased vulnerability is due to a variety of factors, including social exclusion, communication barriers and insufficient information and support. 
Ensuring that children and teenagers with disabilities are able to exercise their rights - including their right to an education - is essential in combating this vulnerability.
Opportunity to dream
Over the past two years, the Spotlight Initiative in Tajikistan has aimed to create inclusive school environments by introducing student councils in 45 schools across target cities and districts. More than 1,000 students have joined these councils and each of them is trained in gender-based violence prevention, including the rights of people with disabilities. The Initiative has successfully implemented complaint mechanisms in schools to respond to and refer cases of violence among students. Combined with positive behaviour training for teachers, this has fostered respectful relationships among children.
Following Spotlight Initiative support to Mohtobkhon's school, teachers, staff, classmates, friends and parents are now working hand-in-hand with the student council to ensure that Mohtobkhon gets the education she deserves. They help her to move around the school to classes and offer social support. Now that she is no longer afraid of being bullied, school has become one of her favourite places.
"My school has changed not only into a place where I can study,  but it also makes me feel comfortable. I don't notice how [long the day is as] time goes by quickly," says Mohtobkhon.
"Mohtobkhon and I have been very lucky," adds her mother, Abdurahimova Dilafruz. "We have been given hope for the future. Our Mohtobkhon now believes that life is beautiful." 
Mentors: a source of light
At each target school, a mentor is selected and trained to oversee programming. At Mohtobkhon's school, Hiassar school no. 59, that mentor is her teacher Davlatov Boymuhammad. Mr. Davlatov believes that school is critical for developing social and communication skills – things children may miss out on if they are homeschooled. 
"Homeschooling usually starts in the afternoon, and teachers are exhausted by that time," he says.  "Sometimes the teacher fails to come [to the student's house] because of competing administrative work."
However, he understands why some families choose this route.
"[Many] children with disabilities can't just be taken to school [and left there]," he explains – many schools in Tajikistan do not have accessible infrastructure, especially those outside major cities. "Students have to be escorted between the classrooms and to the toilet, and have their physical condition monitored," he says. "Many people opt for homeschooling because of these circumstances… Unfortunately, not every parent can handle [the demands of keeping their child in school]."
"We have been given hope for the future. Our Mohtobkhon now believes that life is beautiful."  - Mohtobkhon's mother, Abdurahimova Dilafruz
Leaving no one behind 
Mr. Davlatov was critical in persuading Mohtobkhon's parents to support her return to school. 
"When Mohtobkhon was homeschooled, she missed her teachers and her classmates," he says. "But most of all, she missed being able to interact with her peers and be part of a team."
Today, Mohtobkhon attends school every day and is working towards her dream. 
"I enjoy being around friends who are always supportive and helpful," she says. "I hope to become a doctor and be able to care for other people the way they care for me."
By Farangis Umedzoda  
Like what you read? Spread the word.