Violence and control in lockdown: more support needed for women and girls in Niger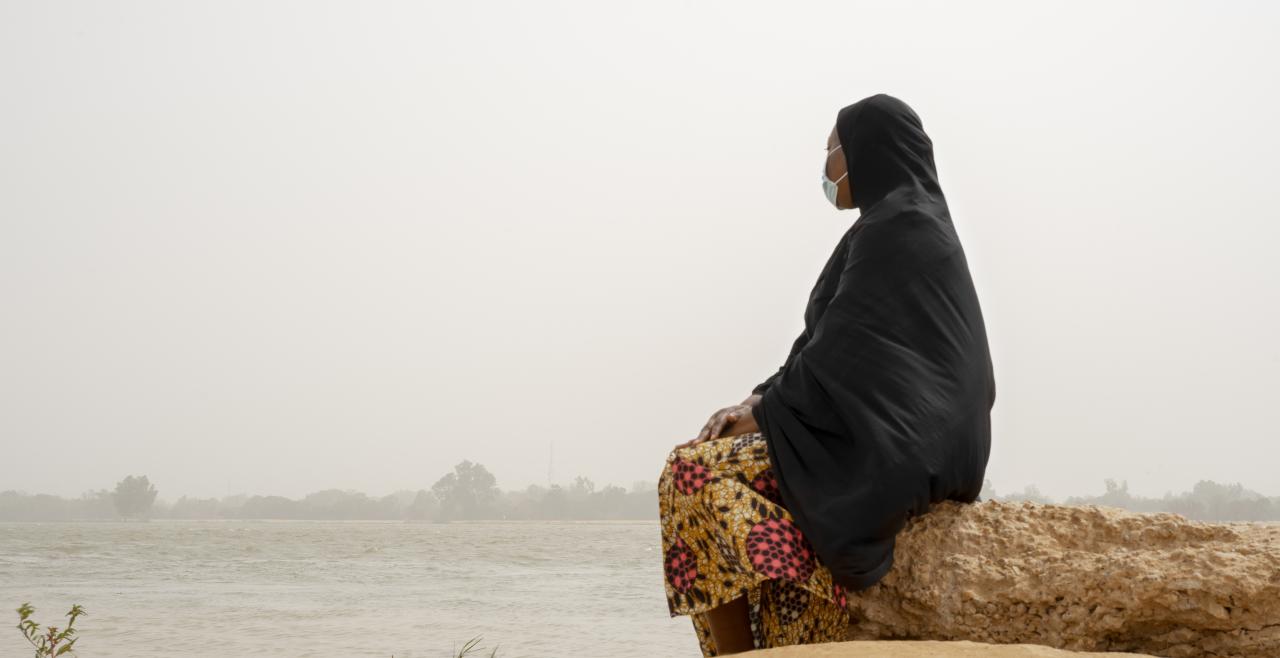 February 19, 2021
NIAMEY, Niger - Before the pandemic, Zaynab's* husband was a minibus driver who spent long days driving between the city of Niamey and surrounding towns. Though Zaynab would have preferred he spend more time at home with their 2-year-old son, she was accustomed to the situation.
Everything changed when Niger declared a health emergency and transportation between districts stopped. Like many breadwinners, Zaynab's husband was now unemployed and the family without income. Zaynab had worked in the men's clothing business before she got married, but later quit because of her husband's jealousy.
"I picked up my sleeping baby and left the house to go to my aunt's house. I didn't think about the curfew, I was just afraid to stay in the house with him." - Zaynab*, domestic violence survivor
One evening during lockdown, Zaynab's husband arrived home after curfew. "I was worried about him but since he didn't want to talk, I didn't ask him any questions," she says. After dinner, she asked for some money to buy food for Ramadan.
"He searched his pockets, put 750 francs (roughly $1.20) on the table and told me to go and top up the cash with money from my mother," she says. "I did not recognize my husband… Since he stopped working, he would sometimes scold me or threaten me, but his nervous energy took on another dimension.
"He slapped me and beat me up. When I felt blood run down my face, I begged him to stop. I ran into the bedroom, picked up my sleeping baby, and left the house to go to my aunt's house. I didn't think about the curfew, I was just afraid to stay in the house with him. "
Zaynab was shocked. It was the first time her husband had been violent with her.
Her aunt accompanied her to the medical clinic for treatment. When she got home, her husband was unrepentant. "He told me I could leave his home because he would have no trouble finding another, less complicated woman," she says.
This gave Zaynab the courage she needed to go to the police station. The following day, she filed a complaint for assault and battery and economic violence. Her husband left their home and did not return.
Despite what had happened, Zaynab's mother tried to convince her to withdraw the complaint. Zaynab risked repudiation – a cultural divorce that can be decided by the husband without any court or legal system. But Zaynab stood her ground. "I'll be fine. I'll sell ice cream [to make ends meet]," she says. "I never expected to be in this situation but it's a relief. The police officer has asked me to be patient because they receive a lot of cases similar to mine."
"Women who file a complaint take a risk by coming to the police, because they have often stood up to very strong family and social pressure. If we ignore their suffering, we risk causing even more harm." - Officer Mahamadou Nazir
Many cases, not enough police
In March 2020, 120 complaints were lodged with the national Police Division for the Protection of Minors and Women. In April, following lockdown, that number almost doubled according to Deputy Head of the Division, Officer Mahamadou Nazir.
"In March, 19 of the complaints were about domestic violence or related to confinement," he says. "In April, we had 48 - mainly cases of domestic violence, threats and rape. We also received 16 complaints resulting from lack of care or denial of resources."
Unfortunately, violence against women and girls is often normalized. Six in ten Nigerien women (59.6%) find it justified for a man to beat his wife, according to the Niger Demographic and Health Survey. In Niger's penal code, domestic violence is classified and treated as assault and battery rather than as a specific offense. As a result, marriage is often perceived as a mitigating factor in cases of abuse.
"As police officers, changing our behaviour towards women victims of domestic violence is the first step in helping them," says Officer Nazir. "Women who dare to file a complaint take a risk by coming to the police, because they have often stood up to very strong family and social pressure to do so. If we ignore the damage they suffered, we risk causing them even more harm."
In Zaynab's case, her husband ignored police summons and when officers visited his family home they discovered that he had fled to Togo. In his absence, Zaynab was able to negotiate a divorce with his family and withdrew her complaint after they agreed to pay her medical costs.
The Spotlight Initiative is continuing to provide essential services to women and girls in Niger and is working with police to improve their capacity to manage domestic violence cases. This includes providing materials and equipment to 10 police stations in the city ​​of Niamey and 100 police stations in the regions of Maradi, Zinder, Tahoua and Tillabéri. In December, Spotlight-supported training sessions taught Police and Gendarmerie Officers serving at national divisions in Niamey and the four Spotlight Initiative regions how to become trainers themselves. Officers then share their knowledge of gender-based violence and how to better serve survivors with peers, in the hope of creating industry-wide, systemic change.
This year, the Initiative will provide laptops, tablets and motorbikes to assist in the management of more cases.
By Fatou Binetou Dia
*Names have been changed
Like what you read? Spread the word.