The warrior women of Ecatepec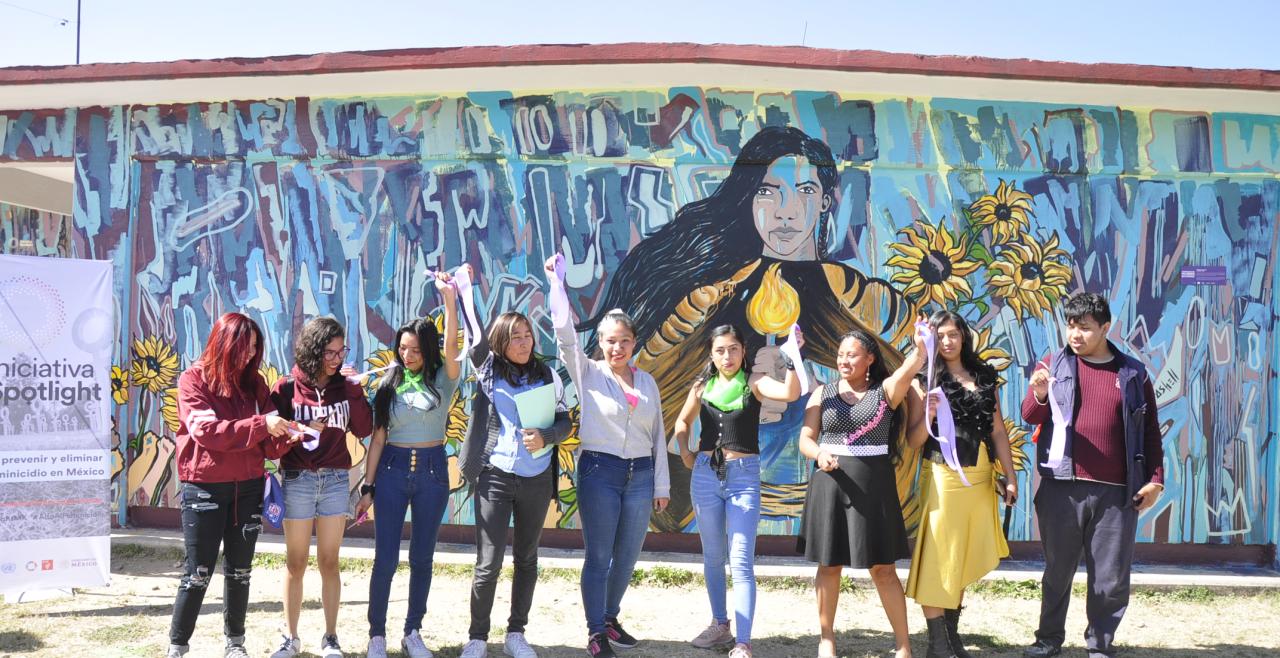 January 14, 2020
ECATEPEC, Mexico — "I am Michel, Joseline, Lupita, Rosita, a girl from the shore. I am the girl in the plastic sack, the raped and burned, the girl thrown into the black water river. I am the poor girl from the outskirts."
This poem by Manuel Amador, a teacher at General Francisco Villa High School (which is known locally as "La Panchito") began 'Quinceañeras in Silence', a dance to protest against gender-based violence that was performed at the inauguration of the school's new mural.
"No more silence! No more violence! No more death!" - Ana Karen Escobar, 18
A crowd of around 150 young people, parents, teachers and journalists watched as students danced the waltz traditionally performed at a quinceañera, the celebration that marks a girl's 15th birthday.
Dancers wore the customary colourful crinoline dresses but their make-up — which mimicked the appearance of blood and bruises — portrayed the dark reality faced by many women in Ecatepec. Gender-based violence kills 10 women every 24 hours in Mexico and this region has one of the nation's highest rates of femicide.
At the end of the dance, students displayed banners that read: "Girls are not to be touched, not to be raped, not to be killed" and "Broken girls hoping to be free ". They then sang 'A Rapist in Your Path', the Chilean protest song that has become a global feminist anthem.
The performances mirrored the message of the school's new 'Woman Warrior' mural, which depicts a woman encircled by fists and sunflowers. Though surrounded by violence, she holds a torch to represent female strength and hope for the future.
The mural was painted by street artist Liz Rashell with the help of 100 students and is a collaboration between the Spotlight Initiative and Tomate and Comex Collective for a Better Mexico (Colectivo Tomate y Comex por un México Bien Hecho) to mark 16 Days of Activism Against Gender-Based Violence.
Francisco Villa High School was chosen as the site of the mural because of its commitment to using art to raise awareness about gender-based violence. "In our town there is impunity for a rapist, a stalker and a murderer," said Ana Karen Escobar, a 18-year-old student of "La Panchito". "No more silence! No more violence! No more death!"
She also spoke about how people shouldn't feel restricted by their gender. "There will be men who lock themselves in their world, but they can also wear pink, cook, be afraid, be feminists and dance," she said. "Women can wear blue, be engineers, be drivers, be strong and be presidents."
"When you educate the young, you serve the whole community." - Mr. Amador, High School Teacher 
Mr. Amador, who created the extracurricular workshop behind the dance, explained that art is a way to break the silence around gender-based violence and promote discussion of the issue within the community. "These performances tell a truth. We cannot confront violence towards girls and women in these places if we don't talk [about the issue] and build strategies from the truth," he said. "Women have been denied their rights for many years... What we do at this school is build a sense of belonging and citizenship. When you educate the young, you serve the whole community."
Similar murals designed to engage young people in conversations about violence and consent were created across Latin America, Africa and Asia.
By Eloisa Farrera
Like what you read? Spread the word.