Spotlight Initiative is working to prevent family violence in Jamaica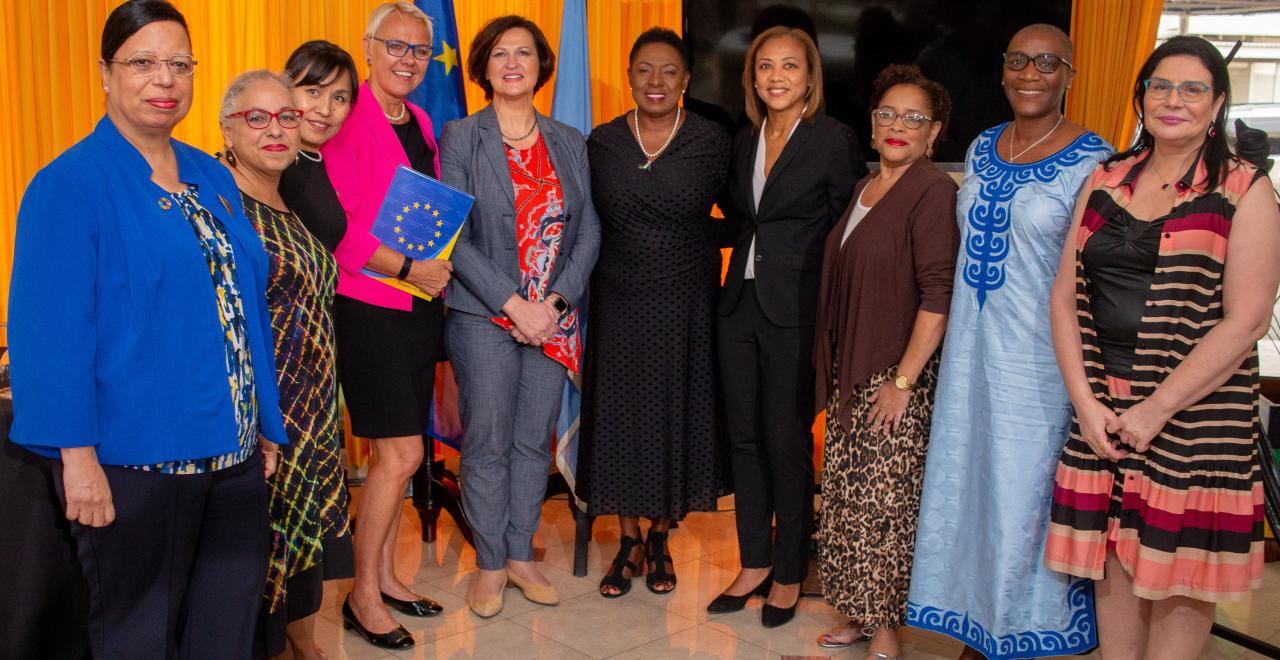 March 9, 2020
KINGSTON, Jamaica - The Government of Jamaica, the European Union (EU) and the United Nations (UN) system in Jamaica today launched a new collaborative effort to combat the country's alarming levels of violence against women and girls. 
The launch of the Spotlight Initiative included two key events. The first was held at the Office of the Prime Minister and included a keynote address from the Most Honourable Andrew Holness, ON, MP and also included high level representation and remarks from Jolita Butkeviciene Director for Latin America at the European Commission's Directorate-General for International Cooperation and Development and Michelle Gyles-McDonnough Director, Sustainable Development Unit, Executive Office of the Secretary-General of the United Nations. Gyles-McDonnough, is the highest-ranking Jamaican in the United Nations. 
The second event was held at the UWI Regional Headquarters and featured a keynote address from the Most Hon. Juliet Holness, MP. 'Edutainment' performances were provided by The Ashe Company, Tanya Stephens, Tarrus Riley, Desmond Dennis and Andrew Bailey.
In Jamaica, the Spotlight Initiative will invest €8 million over three years on a range of efforts – focused in four parishes – to prevent and reduce family violence, which mostly affects girls and women. Family violence refers to acts of abuse and aggression in family or close-knit relationships. This includes domestic violence, intimate partner violence, child sexual abuse and corporal punishment.
According to recent statistics, 28 per cent of women in Jamaica experience physical or sexual violence in their lifetime. In 2018, 71 per cent of girls under 18 who were victims of crime had been raped. Two out of 10 girls aged 15 to 19 years think it is okay for a husband or partner to hit his wife or partner, and 85 per cent of children experience violent discipline at home.
"The recent spike in brutal cases of violence against women is evidence of a long-standing challenge in Jamaica, in which girls and women bear the brunt of family violence," said Mariko Kagoshima, UN Resident Coordinator ad interim in Jamaica, Bermuda, Bahamas, Bermuda. "The Spotlight Initiative will bring several agencies together to address the root causes of this violence, including harmful cultural beliefs and norms," she said.
The Spotlight Initiative approaches family violence as a major public health and development issue. A range of interventions will seek to change and influence laws and policies, individual behaviour and wider social norms. Efforts will also be made to strengthen institutions that serve girls and women and improve the delivery of essential services to them.
Implementation will be led by a number of UN agencies, working closely with the Ministry of Culture, Gender, Entertainment and Sport as well as civil society organizations. The four parishes on which Spotlight will focus are Kingston and St. Andrew, St. Thomas, Clarendon and Westmoreland. Interventions will target selected communities in these parishes. Other elements of Spotlight will have national impact. 
For further information, please contact:
United Nations and EU: Jomain McKenzie, Development Coordination Officer, Programme Communications & Advocacy, Office of the UN Resident Coordinator
Email: jomain.mckenzie@one.un.org. Mobile: 876-553-8794
Ministry of Culture, Gender, Entertainment and Sport: Dr. Tamika Peart, Coordinator, Bureau of Gender Affairs
Email: tamika.peart@hotmail.ca. Mobile: 876-301-7128
Delegation of the European Union to Jamaica, Belize, The Bahamas, Turks and Caicos and The Cayman Islands: Jovan Johnson, Assistant Press and Information Officer, Political, Press and Information
Email: jovan.johnson@eeas.europa.eu. Mobile: +1 (876) 869-1165
Like what you read? Spread the word.