UN Foundation and Spotlight Initiative launch new fund to support grassroot efforts to end gender-based violence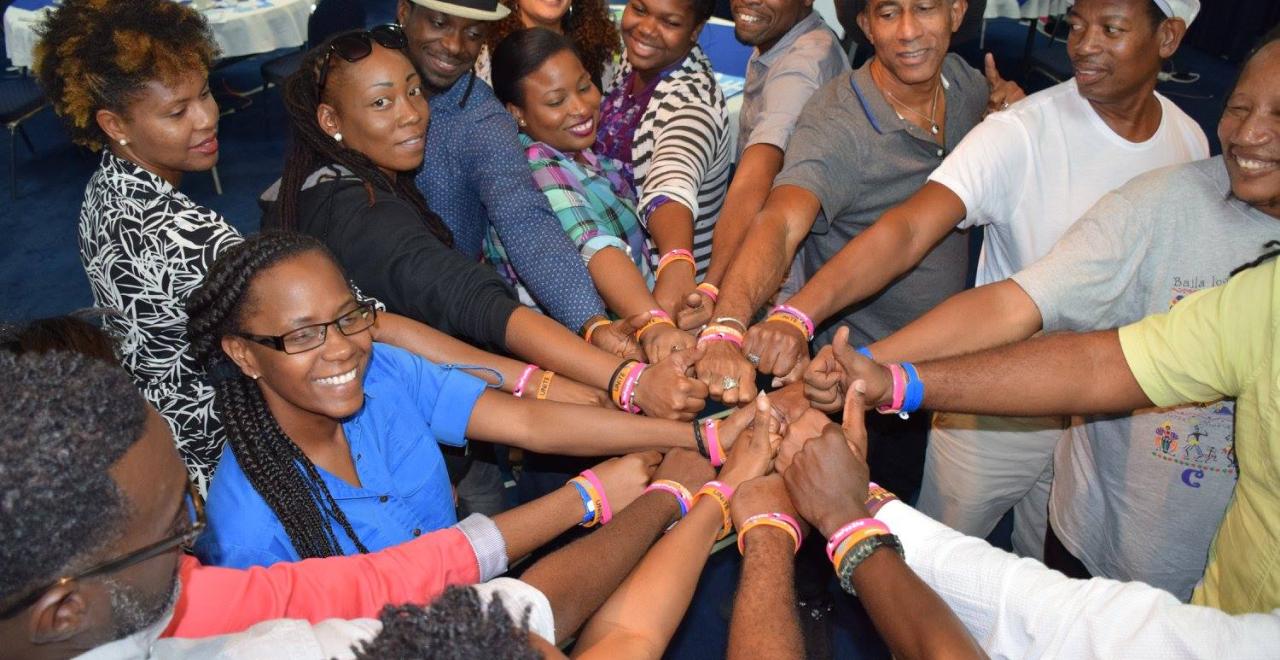 December 2, 2021
WASHINGTON DC/NEW YORK, USA - In partnership with the Spotlight Initiative, the UN Foundation announced today the launch of the WithHer Fund – a new funding vehicle that will provide resources directly to grassroots women's organizations around the world fighting gender-based violence (GBV) in their local communities. Today's announcement follows the commitment made by the UN Foundation during the Generation Equality Forum in Paris in June 2021, and was made possible with initial support from The Estée Lauder Companies Charitable Foundation and the H&M Foundation to advance the UN Foundation's core gender equality work.
"Ending violence against women and girls is necessary to ensure that half the population can live a life of dignity, free from fear and insecurity. Without this we will never realize gender equality or the full 2030 Agenda," said Amina J. Mohammed, Deputy Secretary-General of the United Nations. "Civil society and grassroots organizations are the keys to transformative and sustainable change.  The WithHer Fund aims to increase the flow of resources to local groups to make a difference: those on the frontlines of this challenge in their communities."
"Civil society and grassroots organizations are the keys to transformative and sustainable change." - Amina J. Mohammed, Deputy Secretary-General of the United Nations
The WithHer Fund was established in response to intersecting emergencies: chronically insufficient funding for gender-based violence; the historic and continued lack of funding to grassroots women's groups; the exponential rise of gender-based violence during the COVID-19 pandemic; and the existential threats that these groups face as the need for their services has increased while the funding for their work has dried up during the pandemic.  
"The WithHer Fund's explicit mission to direct resources to smaller, local grassroots groups deeply embedded in their communities reflects a core imperative of the Sustainable Development Goals: to deliver for real people, in real places, and on their own terms," said Elizabeth Cousens, President and CEO of the UN Foundation. "Realizing the promise of the SDGs and ending gender-based violence will take implementation and leadership at the local level, with a focus on the most marginalized girls and women – and that's exactly what this Fund is designed to do."
Approximately 99 per cent of gender-related international aid does not reach grassroots women's rights and feminist organizations. The WithHer Fund is established to help fill this gap. The Fund aims to offer essential support to smaller organizations through a feminist grantmaking approach, which includes a collaborative and partnership-oriented model of core grantmaking based on unrestricted funding, flexibility, and trust throughout the process. 
The WithHer Fund directly supports local grassroots women's organizations, with a first cohort of grantees in Argentina, Belize, El Salvador, Malawi, Mali, and Trinidad and Tobago.
Argentina: Sordas sin Violencia
Sordas sin Violencia (Deaf Women Without Violence Programme) is the only initiative in Argentina that exclusively works on providing accessible information and support to deaf and hard-of-hearing women and their children who are experiencing violence and discrimination.
Belize: Haven House
Haven House is the only shelter in Belize City providing temporary relief for women and their children experiencing domestic violence.
El Salvador: CEMUJER  
CEMUJER is a feminist human rights institution dedicated to strengthening the rule of law and access to justice for women.
Malawi: Foundation for Civic Education and Social Empowerment (FOCESE)
Founded by young women survivors of child marriage, teen motherhood, and HIV, FOCESE works to ensure young people in Malawi – particularly adolescent girls and young women – are active participants and informed decision-makers of their own lives.
Mali: ONG Tagnè 
ONG Tagnè works in the field of reproductive health, GBV and harmful practices such as female genital mutilation and forced/early marriage. 
Trinidad & Tobago: NiNa Young Women's Leadership Program
The NiNa program provides life skills, financial literacy, entrepreneurial skills, and tools to help build self-value in young women within the state care system. In recent years, the Program has also worked with the St. Jude's Home for Girls to help girls develop coping skills to manage past sexual abuse and emotional trauma.
The UN Foundation and Spotlight Initiative selected the first cohort of Fund grantees based on criteria including, being women-led, women's rights organizations, having feminist leadership, and demonstrable local and grassroots activities. Regional diversity and urgency of resourcing needs were also taken into consideration. You can learn more about each of the grantees, including how the WithHer Fund will support their vital work here. 
About the United Nations Foundation
The UN Foundation is an independent charitable organization created to be a strategic partner for the United Nations to address humanity's greatest challenges, build initiatives across sectors to solve problems at scale and drive global progress. Learn more at www.unfoundation.org 
About the Spotlight Initiative
The Spotlight Initiative is a global, multi-year partnership between the European Union and the United Nations to eliminate all forms of violence against women and girls by 2030. Its investments across more than 25 countries are addressing legislative and policy gaps, strengthening institutions, promoting gender-equitable attitudes, and providing quality services for survivors. Interventions are also strengthening systems for collecting data on violence against women and girls and women's movements. Learn more at www.spotlightinitiative.org
Media Contacts:
Megan Rabbitt | UN Foundation
mrabbitt@unfoundation.org
+1 202-247-1777
Koye Adeboye | Spotlight Initiative
Koye.adeboye@un.org 
+1 646-781-4768
Like what you read? Spread the word.