16 Essentials for Quality Multisectoral Service Provision to Women Migrant Workers Subject to Violence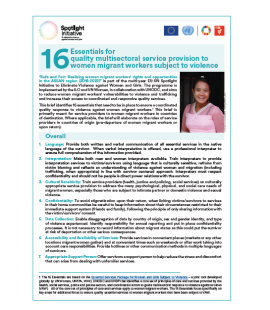 Date:

January 2019

Number of pages:

2

Author:

UN Women
This brief identifies 16 essentials that need to be in place to ensure a coordinated quality response to violence against women migrant workers. This brief is primarily meant for service providers to women migrant workers in countries of destination. Where applicable, the brief will elaborate on the roles of service providers in countries of origin (pre-departure of women migrant workers or upon return).
Also available in Bahasa Indonesia, ភាសាខ្មែរ, Tagalog, ภาษาไทย, Tiếng Việt and ဗမာ.
Download:
Like what you read? Spread the word.