Applying Behavioral Insights to Address Digital Violence Against Women and Girls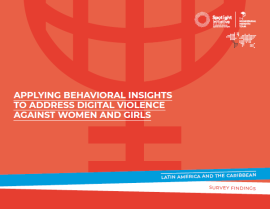 Date:

November 2021

Author:

UN Women
Download:
UN Women and the Behavioural Insights Team (BIT) developed and tested behaviorally-informed messages with the goal of encouraging men to intervene when witnessing digital violence against women. We also explored potential mechanisms underlying the behavior change.
We ran 26 interviews with violence prevention experts and men who had taken part in programming aimed to prevent violence against women and girls (VAWG). We identified probable barriers that hinder bystanders from intervening against violence:
Bystanders do not recognize VAWG;
Bystanders think that others do not take action when witnessing VAWG;
Bystanders worry about consequences of taking an action while overlooking consequences of their inaction; and
Bystanders do not know how to intervene effectively against VAWG.
BIT used an online survey platform to simulate three scenarios illustrating varying forms of digital violence. We recruited over 5,000 male respondents from Bolivia and Guatemala and measured their likelihood of intervening in these situations.
Learn more on the findings and insights by downloading the document with the results.
Like what you read? Spread the word.