P 2021
Engaging with Men and Boys Knowledge Product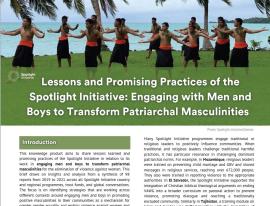 No. of pages: 2
Author: Spotlight Initiative
Engaging men and boys to transform patriarchal masculinities
This knowledge product aims to share lessons learned and promising practices of the Spotlight Initiative in relation to its work in engaging men and boys to transform patriarchal masculinities for the elimination of violence against women. This
brief draws on insights and analysis from a synthesis of 98 reports from 2019 to 2021 across all Spotlight Initiative country and regional programmes, trust funds, and global conversations.
The focus is on identifying strategies that are working across different contexts around engaging men and boys in promoting positive masculinities in their communities as a mechanism for greater gender equality and ending violence against omen and girls (VAWG).