Imperative to Invest: How addressing violence against women and girls today reduces violence over time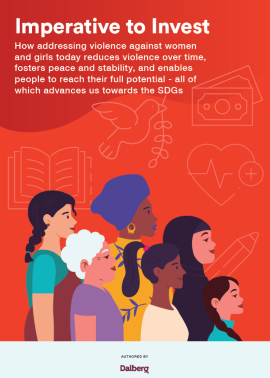 Date:

September 2022

Number of pages:

43

Author:

Dalberg
Download:
The Imperative to Invest report, authored by Dalberg, brings evidence together for the first time to showcase the wide potential of investing in eliminating violence against women and girls. This report, comprising of future estimations for a comprehensive model like the Spotlight Initiative, sheds light on the multitudes and magnitudes of impacts that addressing violence against women and girls could have on the lives of billions of people and on advancing nearly all the Sustainable Development Goals.
The purpose of this report is to reduce the disconnect between available evidence on effectively addressing violence against women & girls (VAWG) and VAWG's prominence in the development discourse. Authored by Shruthi Jayaram, Swetha Totapally and Akanksha Agarwal at Dalberg Advisors, the report uses data from the Spotlight Initiative as well as over 100+ impact evaluations and 100+ articles that link VAWG to the SDGs to create quantitative estimates of the forward-looking impacts of large scale investments in VAWG. Example of potential impacts estimated include – direct violence prevalence reduction, lives saved (including of children), girls enrolled in schools, attitudes shifted, and earnings potential restored.
The report also unpacks the role of the comprehensive approach that the Spotlight Initiative takes to addressing violence, specifically by addressing multiple forms of violence simultaneously, and by delivering the work in close partnership with – and under the guidance of - women's rights organizations and civil society. The report is not an impact evaluation of the Spotlight Initiative, but rather a forward-looking estimate of the power & potential of large-scale investments (such as Spotlight) in addressing VAWG and advancing towards the SDGs. It has benefited from the expert guidance of several dozen stakeholders, including 20+ external experts, colleagues at the Spotlight Initiative Secretariat, and colleagues from the Spotlight Initiative's Civil Society Reference Group.
To read the full report, click the download button above.
A summary of the report is also available in English and Spanish. 
Like what you read? Spread the word.