International Day of the Girl Child 2021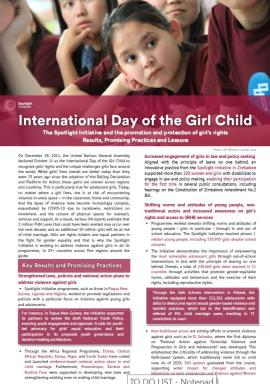 Date:

October 2021

Number of pages:

2

Author:

Spotlight Initiative
Download:
The Spotlight Initiative and the promotion and protection of girls' rights - Results, Promising Practices and Lessons
On December 19, 2011, the United Nations General Assembly declared October 11 as the International Day of the Girl Child to recognize girls' rights and the unique challenges girls face around the world. While girls' lives overall are better today than they were 25 years ago since the adoption of the Beijing Declaration and Platform for Action, these gains are uneven across regions and countries. This is particularly true for adolescent girls. Today, no matter where a girl lives, she is at risk of encountering violence in every space – in the classroom, home and community. And the types of violence have become increasingly complex, exacerbated by COVID-19 due to lockdowns, restrictions on movement, and the closure of physical spaces for outreach, services and support. As a result, various UN reports estimate that 2 million FGM cases that could have been averted may occur over the next decade, and an additional 10 million girls will be at risk of child marriage. Girls are rights holders and equal partners in the fight for gender equality and that is why the Spotlight Initiative is working to address violence against girls in all its programmes, in 25+ countries across five regions around the globe.
This 2-pager highlights the key results and the promising practices of Spotlight Initiative's work towards the promotion and protection of girls' rights.
Like what you read? Spread the word.