SHINE: UN Trust Fund x Spotlight Initiative commitment to elevating practice-based knowledge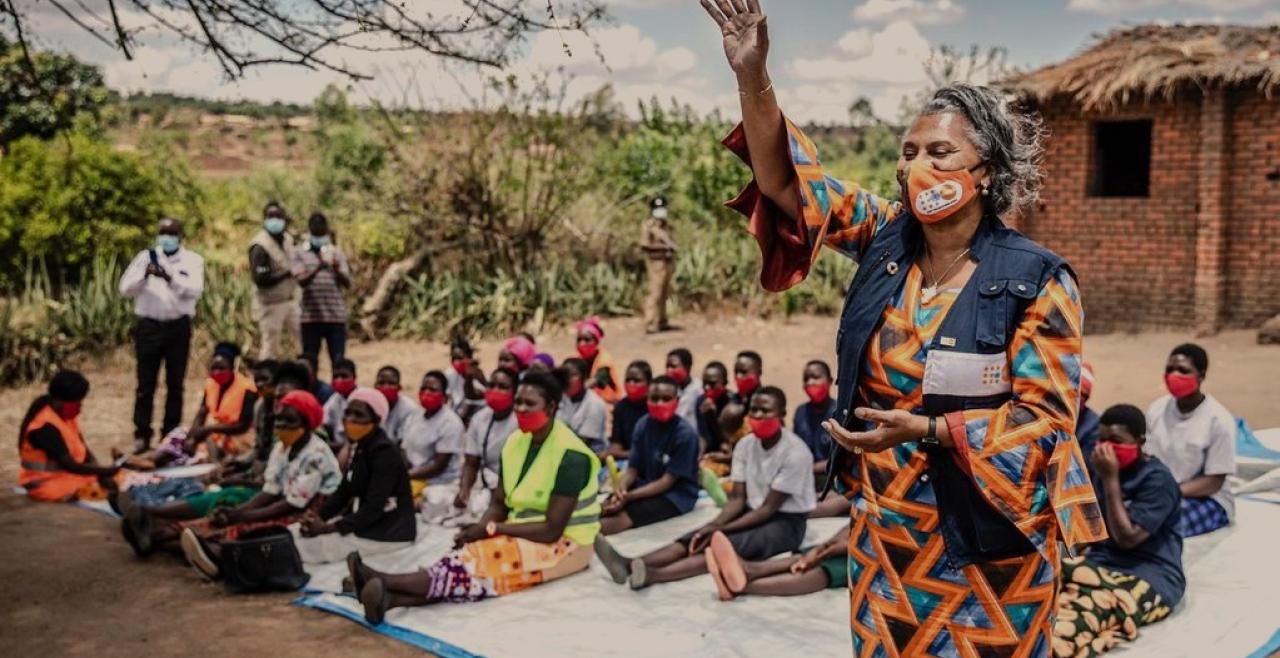 March 10, 2022
On 1 March, the UN Trust Fund to End Violence against Women (UN Trust Fund) and the Spotlight Initiative* co-hosted a special event, "Resiliency to Crises: Lessons from Civil Society Organizations in the Prevention of Violence against Women and Girls". At the event, three representatives from partner civil society and women's rights organizations of the UN Trust Fund and the Spotlight Initiative shared their experience adapting, responding and learning from the continuing impact of the COVID-19 pandemic. The event also introduced SHINE, a global knowledge exchange on ending violence against women and girls.
We talked with Vesna Jaric, acting Chief of the UN Trust Fund and Erin Kenny, Head of Technical Unit at the Spotlight Initiative about support to civil society resiliency and commitment to elevating practice-based knowledge through SHINE.
Could you tell us briefly about the UN Trust Fund and the Spotlight Initiative for our audience who are not familiar with the work of both organizations?
Vesna: The UN Trust Fund is a global inter-agency grant giving mechanism managed by UN Women, on behalf of the UN system. The fund was established by the UN General Assembly in 1996 with the mission to support initiatives to eliminate violence against women. In 25 years of grant-giving, we have funded 609 initiatives in 140 countries and territories around the world, and currently managing the portfolio of 157 demand driven projects in 3 outcome areas — on prevention, multi-sectoral services and laws, policies, and reforms.
 
Erin: Launched in 2017, the Spotlight Initiative is a global initiative of the United Nations which has received generous support from the European Union. Its aim is to eliminate all forms of violence against women and girls. the Initiative is a visible political and financial investment in a comprehensive, multi-stakeholder and multilateral approach to ending violence against women and girls. The Initiative is delivering results on one of the most egregious human rights and security challenges globally with a focus on prevention, sustainability, and transformative impacts at all levels.
Two years into the pandemic and we continue to talk about the impact of COVID-19. Why is it still an important conversation to have? What actions have been taken by the UN Trust Fund and the Spotlight Initiative in response to COVID-19 as donors?
Erin: The significant spike in violence against women and girls across the globe through COVID-19 starkly exposed the need for just this kind of catalytic and coordinated global effort. The Initiative rapidly accelerated and redirected more than USD 21 million across programmes to address violence against women and girls in the context of COVID-19, and USD 36.7 million of Spotlight Initiative funds were allocated to civil society partners through the United Nations Trust Fund to End Violence against Women and the Women's Peace and Humanitarian Fund.
The Initiative has been able to adapt and flexibly respond across the humanitarian-development-peace nexus to meaningfully respond to shifting needs and national priorities.
Vesna: Civil society, especially women's rights organizations are at the center of the UN Trust Fund's work. Over the past two years marked by COVID-19 pandemic, we have been actively listening and learning from our large network of civil society partners about the continuing impact of the pandemic and other intersecting crises.
In response to these multiple, coinciding, and intersecting crises of various intensity and based on what we've learned from the grantee partners, we at the UN Trust Fund in partnership with the Spotlight Initiative have endeavored to enable operational and programmatic adaptations, including through the increased provision of flexible and core funding to build their organizational resilience and ensure that the needs of women and girls, especially those at risk of being left behind are met.
SHINE is a space to co-create, collaborate and amplify knowledge and learning together to end violence against women and girls. Could you please tell us about how SHINE reflects the priorities of the UN Trust Fund and EU/UN Spotlight Initiative, and how it also embodies the partnership that the two entities share?
Vesna: The UN Trust Fund recognizes civil society as key knowledge holders and experts on contextually driven approaches to end violence against women. Our Strategic Plan includes a commitment to invest in the expertise and knowledge generated by CSOs and WROs, and to elevate practice-based knowledge and evidence to inform global policy, programming and agenda setting. An example would be through our intentional process of codifying and elevating the wealth of grantees' practice-based knowledge under the umbrella of Learning from Practice on Prevention Series. While we've been adapting to the new operating environment generated by COVID-19, we've realized that we need a global, multilingual virtual convening space to facilitate these exchanges and accelerate achievement of the shared goal of ending violence against women. We created the SHINE online hub to amplify practitioners' voices, listen, learn and facilitate interaction and exchange among practitioners.
Erin: The Initiative demonstrates a new way of working, putting our partnership with civil society at the centre of all we do to define, co-create and monitor programming. Civil society is systematically engaged at national, regional and global levels, including through the partnership with Civil Society Reference Groups. Three years into implementation, the Spotlight Initiative is at an inflection point to amplify its wealth of knowledge, lessons learned and promising practices through its global hub for knowledge where partnership with the UN Trust Fund on SHINE is one of the component and tools for engagement and impact. With wide reach across 5 regions and actors, the Spotlight Initiative is uniquely placed to advocate at the global level and engage the wider global community to facilitate change in the structures, attitudes, and behaviours that enable violence.
What are some quick takeaways from the event you would like to share for those who missed it?
Vesna: At the event, we could see how civil society are (1) centering and engaging women and girls in all their work, (2) how they are mobilizing communities to prevent violence, in innovative ways; (3) how their work is positioned across the spectrum of prevention and response to meet the urgent needs of beneficiaries (4) and how there is a clear need for flexible support to enable adaptive programming and organizational resilience, including through flexible, core and long-term funding.
Both the UN Trust Fund and the Spotlight Initiative have shared throughout the COVID-19 crisis the conviction that it is essential to invest in organizational resilience of the first responders to enable them to adapt to rapidly changing contexts and support women and girls survivors.
Erin: Some main takeaways include the fact that (1) investing in the resiliency of grassroots women's rights organizations demonstrates a commitment to ending violence against women and girls; (2) it is essential to provide core, flexible and feminist funding to support civil society organizations and allow them to adapt and rapidly respond across the humanitarian-development-peace nexus; (3) amplifying practice-based knowledge elevates concrete solutions and recognizes that civil society organizations lead the effort to end violence against women and girls; (4) SHINE offers the opportunity to learn from leading experts around the world, connect with a global community and contribute to the co-creation of knowledge that can influence programming and policy on ending violence against women and girls.
Originally published on Medium.
Like what you read? Spread the word.