Spotlight Initiative Impact Report 2021-2022: Driving change for a better tomorrow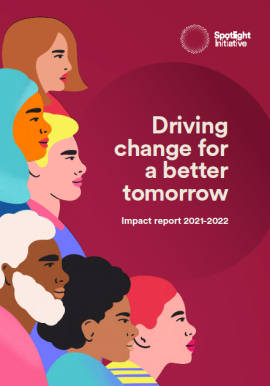 Date:

March 2023

Number of pages:

23

Author:

Spotlight Initiative
Download:
This magazine-style report presents the Spotlight Initiative's signature results for women and girls from 2021, as well as the cumulative progress that has been made towards ending gender-based violence since the launch of the Initiative.
In 2021, the Initiative:
doubled conviction rates for perpetrators of gender-based violence
signed or strengthened 198 laws and policies to eliminate violence against women and girls in 41 countries
educated more than 1.3 million men and boys on non-violent conflict resolution and positive masculinity
worked with 43 countries to strengthen their national action plans to eliminate violence against women and girls
reached nearly 130 million people through campaigns in 29 languages
Since its launch, the Initiative has:
supported 1.6 million women and girls to access gender-based violence services
increased national budgets allocated to addressing violence against women and girls by eightfold
Audio version: 
Spotlight Initiative · Driving change for a better tomorrow - English audio version
Like what you read? Spread the word.